Technology provides continuous air purification that proactively attacks COVID-19's spread in the air and on surfaces
The Crowne Plaza Albany – The Desmond Hotel, having recently gone through a massive renovation, said it installed a new air purification solution. Independently owned and operated by Delta Holdings, Inc. and managed by Woodmere Management Inc, the property is committed to providing a safer and healthier environment for their guests and staff. The Desmond is currently the only hotel in the region featuring this air purification technology.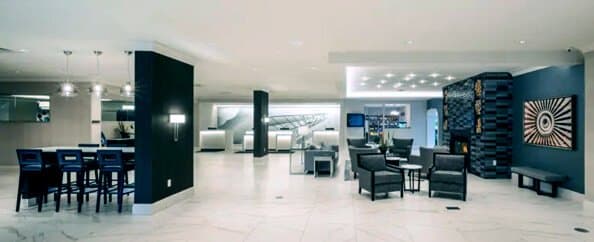 Installed by IoT Right and partners, the clean air solution combines the Air Scrubber with ActivePure technology. ActivePure is scientifically proven, validated by the FDA, and safe for people, pets and the environment. The Hotel has been advised that combining these technologies provides continuous air purification that proactively attacks COVID-19's spread in the air and on surfaces and that ActivePure Technology goes beyond neutralizing the virus that causes COVID-19 and has proven its ability to safely control and neutralize many contaminants such as viruses, bacteria, mold, fungi and VOCs immediately and safely in real-time.
"With the installation of this system, we now have the ability to provide a new level of service and comfort for guests, event attendees, and coordinators, as well as enhanced environmental protections for employees and staff members," said Jack Roddy, director of sales, Crowne Plaza Albany – The Desmond Hotel. "With so much uncertainty surrounding COVID-19, we wanted to provide an extra level of confidence for our guests when they choose to hold events here and stay at our property."
This Photo Catalytic Oxidation technology currently in use at The Desmond is also used by NASA to protect astronauts while in flight and in residence at the Space Station. The technology uses light waves and a catalytic process to produce superoxide ions and hydroxyls that destroy contaminants on surfaces and in the air. The Desmond currently has the equipment installed in all common areas, including the lobby, restaurant, meeting rooms, ballrooms, courtyards, fitness center, and the entire back-of-the-house.
"The investment The Desmond has made on behalf of their guests and employees is impressive," said Richard Ruzzo, managing partner, Shepherd Communication & Security and Partner of IoT Right. "These types of systems have become a focal point in our community's front-line defense against airborne pathogens and allergens. With this installation, the Desmond has shown its clear commitment to guest safety as we all attempt to navigate the COVID-19 pandemic. The Desmond has taken the step of adding technology into their building that is at the forefront of hospitality and is currently unlike any other hotel in the area." in addition to the air purification investment, The Desmond is part of IHG Hotels & Resorts, where guests can rest easy with the IHG Clean Promise, guaranteeing every room will be clean to their satisfaction upon arrival. If the room does not meet standards upon check-in, Crowne Plaza promises to make it right.