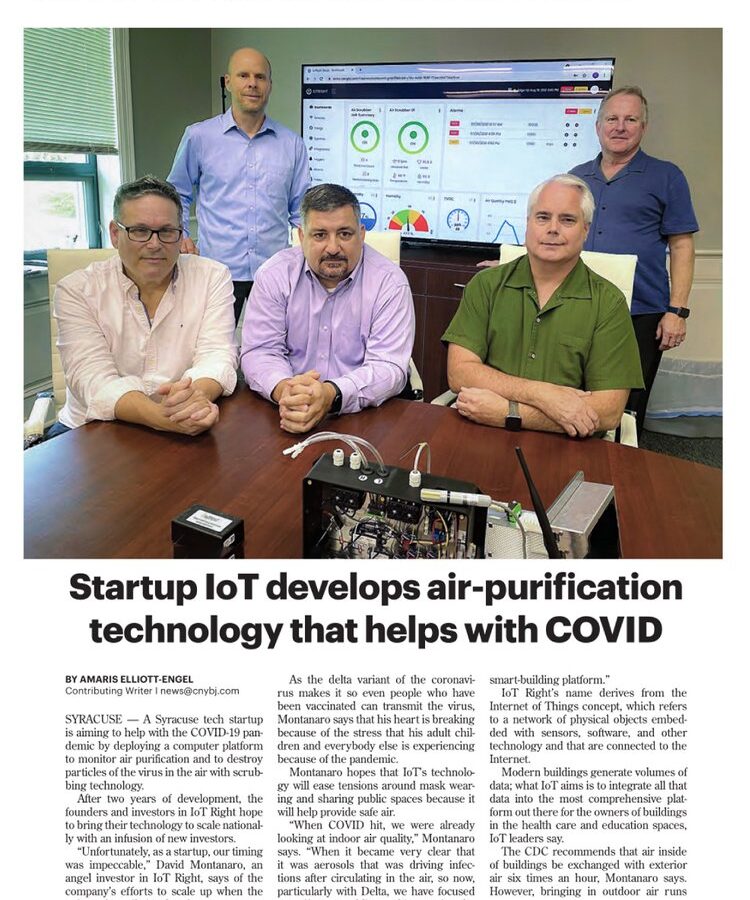 A Syracuse tech startup is aiming to help with the COVID-19 pandemic by deploying a computer platform to monitor air purification and to destroy particles of the virus in the air with scrubbing technology.
After two years of development, the founders and investors in IoT Right hope to bring their technology to scale nationally with an infusion of new investors. "As a startup, our timing was impeccable," David Montanaro, an angel investor in IoT Right, says of the company's efforts to scale up when the safety of ventilation has become a paramount concern.
As the delta variant of the coronavirus makes it so even people who have been vaccinated can transmit the virus, Montanaro says that his heart is breaking because of the stress that his adult children and everybody else is experiencing because of the pandemic.
Montanaro hopes that IoT's technology will ease tensions around mask-wearing and sharing public spaces because it will help provide safe air. "When COVID hit, we were already looking at indoor air quality," Montanaro says. "When it became very clear that it was aerosols that were driving infections after circulating in the air, so now, particularly with Delta, we have focused our efforts on adding and integrating the best air-purification technology into the smart-building platform."
IoT Right's name derives from the Internet of Things concept, which refers to a network of physical objects embedded with sensors, software, and other technology that are connected to the Internet.
Modern buildings generate volumes of data; what IoT aims is to integrate all that data into the most comprehensive platform out there for the owners of buildings in the health care and education spaces, IoT leaders say.
The CDC recommends that air inside of buildings be exchanged with exterior air six times an hour, Montanaro says. However, bringing in outdoor air wreak havoc on HVAC systems, he says, and air purification is a better modality. Mike Marley, founder and CEO of IoT Right, spun the company off as its own concern from the parent company, Unimar. That firm manufactures "obstruction lighting," which must be placed on any structure that exceeds 200 feet above ground level and must meet federal regulations.
Unimar developed an Internet-of-things platform to monitor remote towers, oil rigs, wind turbines, and other tall structures, Marley says. It can do diagnostics and do updates remotely.
"We thought, 'Why do we just want to build this platform for towers?' We wanted to expand to other industries," Marley says.
Joe Romano, chief revenue officer at IoT Right, says the firm has partnered with ActivePure Technology. ActivePure's units pull free oxygen and water molecules in the air, creating oxidizers that when released back into the air kills the coronavirus and other viruses on surfaces and in the air.  "This goes out and proactively cleans the air," Romano notes.
IoT's role in this is to make sure that ActivePure units are working and make sure that the air is safe in the areas in which the units are placed, he explains.
IoT's platform also can help building owners and managers monitor energy efficiency, water consumption, refrigeration, lighting, HVAC, and other functionalities, according to Marley.
"It's truly the connection of data and integrating smart buildings and getting data from any device in the buildings," Marley says. "It helps building owners get information about their buildings and make smart, safer decisions for employees and customers."
IoT Right has developed its own sensors and can integrate its system with sensors made by other manufacturers, Marley says.
Montanaro says that the firm is partnering with HVAC companies about their technology so they can monitor if their air purification systems are working.
IoT Right's leaders say the firm's revenues are growing exponentially, though they declined to disclose revenue totals. The company has five full-time employees and two employees who split their time between Unimar and IoT.
So far, the business has been financed by Marley's own investments and also by Montanaro as an angel investor. Romano says that being located in the entrepreneurial ecosystem of the Syracuse Technology Garden has helped IoT by working with other members on integrating sensor solutions and hardware products.
SyracuseCoE, New York State's Center of Excellence in Environmental and Energy Systems, also has worked with IoT regarding the integration of its platform into HVAC-control systems, Romano says. He also came from the Tech Garden to work for IoT.
IoT Right says it has a great opportunity for its technology to make a difference in the marketplace. "The time is right," Montanaro says. "We are anxious to get it out there."
BY AMARIS ELLIOTT-ENGEL
Contributing Writer news@cnybj.com